Cape Cod, Martha's Vineyard, Hershey PA and More!
Departs: September 14th, 2021 Returns: September 22nd, 2021
---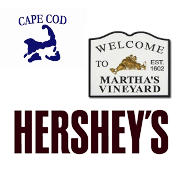 This week long tour will begin with a stop in Cleveland to tour
the Rock and Roll Hall of Fame. By the end of day 2 we will have
made it to New York.

From there it's on to Massachusetts, where you will
be welcomed by the sandy shores of Cape Cod. Extending some 70 miles
into the sea, the Cape is home to both natural beauty and quaint
colonial villages. You can walk pristine beaches, revel in the arts
and culture, and reclaim childhood memories of seashells, sandcastles,
and saltwater taffy. Dinner at our hotel, the Holiday Inn – Hyannis
is included the first evening.

The following day we'll tour the Hyannis, including the
John F. Kennedy Memorial, the Korean War Memorial, Hyannisport and a
view of St. Francis Xavier Church, the summer parish of the
Kennedy Family. Then we'll travel to Woods Hole, home to the center of
discovery of the HMS Titanic, the world renowned Woods Hole
Oceanographic Institution, and the national headquarters of the
International Wildlife Coalition. We'll then board a Steamship Authority
ferry to the island of Martha's Vineyard to take part in a
"Down Island" tour, where you will learn the history and
lifestyles of the islanders as you pass through the
picturesque villages. There will be free time for lunch in the historic
whaling town of Edgartown. You will be able to stroll through "Cottage City"
in Oak Bluffs, with its brightly painted cottages and decorative "gingerbread"
trim. To end the day you'll be treated to a a Lobster Dinner!

The next day your local guide will meet you at your hotel for a full day of touring.
You will travel historic Route 6A, the Old King's Highway, a scenic byway winding
through centuries of Cape Cod history. It winds past hundreds of historic
structures which characterize its early development. You'll view the Eastham Windmill,
a Cape Cod Lighthouse and visit the Cape Cod National Seashore Visitor's Center.
Sand dunes and the ocean surround you as you approach "Land's End" , Provincetown.
You are now at the extreme tip of Cape Cod. Formerly known as the "Province
Lands" the pilgrims landed here first before they decided to settle across
the Bay in Plymouth. Take some time to enjoy the wonderful variety of restaurants,
shops, and galleries that make this artists/fishermen village so unique.

Later in the day, you'll have the option to board an excursion vessel for an
amazing whale watching experience. You will travel into the natural habitat
of a diverse marine environment including birds that migrate here from all
over the Atlantic, and fish which use these shallow waters to feed. Try to spot
Humpback, Minke, and Fin Whales going about their daily business. An onboard
naturalist will introduce you to everything you see and will answer any of your
questions about the whales, birds, fish and
lighthouses.

Not up for whale watching? No problem!

Stay on dry land as admission is included for a dune tour. Ride through the
protected lands of the Cape Cod National Seashore. Your guide will point out
the "dune shacks" where famous artists and writers became inspired to
create their art.

Dinner is included for everyone this evening at the historic Whitman House in Truro.

We'll then travel to Rhode Island, the "Ocean State". Enjoy the charms of Newport,
through their historic buildings and restored homes on this narrated tour
covering over 150 points of interest. Take in the rugged beauty of Ten-Mile
Ocean Drive and the fabulous mansions along tree-lined Bellevue Avenue
Enjoy free time for lunch on the historic downtown waterfront filled with cobblestone
shopping wharves lined with antique stores, art galleries, specialty shops and
restaurants. From there we'll travel to Sturbridge and arrive at the historic
Salem Cross Inn. Settle in as the baker prepares a deep-dish apple pie from scratch
right before your eyes using the freshest ingredients available and apples picked
from the trees in our local orchards.  Help peel the apples with an antique apple
peeler and corer. Learn some of the secrets to rolling out
a perfect crust and making a mouth- watering dessert.  Then we'll top it with
fresh whipped cream. Then, let the Fireplace Feast begin! Relax by the fieldstone
fireplace as the crackling fire roasts your prime rib "to a turn" by rotating it
slowly over a crackling fire of wild cherry logs. This jack is the only
known 1700's antique roasting jack that was used to roast fowl and beef in
New England that is still in use. The flavor of the fireplace roasted prime rib
is unsurpassed. Beware the brimming bowl of freshly whipped cream – the perfect
complement to New England's Best Apple Pie served from an antique wooden bowl.

After departing the east coast, we'll travel to Hershey, PA. Take a trolly tour
of Hershey and spend free time at Hershey World.

Cost per person: $1,395 double/$1,295 triple/$1,245 quad/$1,845 Single

Departures:
6:00 AM, Babler Bus Service- S1666 State Hwy 42, Maplewood WI
6:20 AM, Dykesville Park and Ride, Hwy 57 and Cty P
6:45 AM, Green Bay, GV/172 Park and Ride on Hoffman Rd.
7:30 AM, Manitowoc Park and Ride (across from Perkins)
---
For reservations or more information, please call or email Babler Bus.